Introducing Our New High-Potency, Echinacea Extracts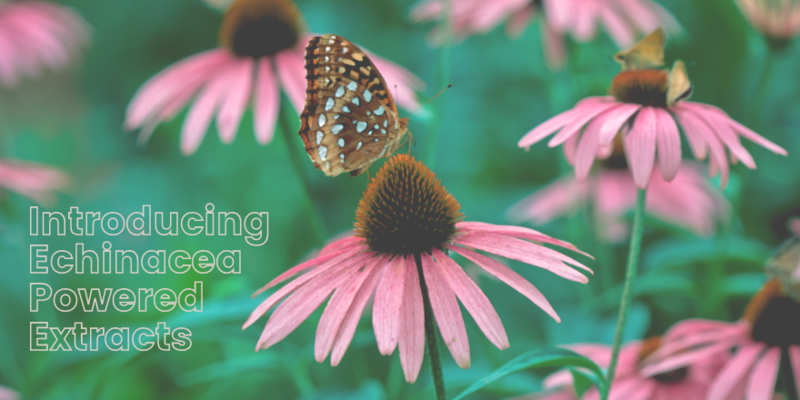 Introducing Our Powdered Echinacea Extracts
Since 2017, Nuherbs has pioneered custom-manufacturing of herbal extracts to meet the specific needs of our customers. Sometimes that work for a customer, whom we view as partners in creating excellent products, leads to material so good that we add it to our catalogue. Here's one case study:
The Search For High Quality Sources of Echinacea purpurea
One of our partners, struggling to find high quality Echinacea purpurea, came to us to see if we could source, grow, and process it to meet their high-potency formulation specifications. Given our unique ability to create a completely traceable, sustainable supply chain, we were able to successfully deliver material that met their needs. Since it was so successful, we added it to our product line. Here's how we created our high potency Echinacea purpurea powdered extracts available in both organic and conventional versions.
How We Created Our New High-Potency, Echinacea Extracts
Using the Nuherbs Bespoke Extracts™ model, we developed standardized Echinacea purpurea extracts with precise, verified chemical markers. To develop our new organic Echinacea purpurea water extract and conventional Echinacea purpurea hydro-alcohol extract, we used the same process we follow when we make a bespoke extract for one of our global customers.
Our process allows for flexibility in determining extract ratios used for herbal supplements, functional foods, and beverages, and more. Applying this technology to our line of stock extracts gives brands a key differentiator in the crowded consumer marketplace – allowing for more delivery formats and/or label claims. These two extracts are now available as a stock offering from Nuherbs.
Sourcing and Testing
Once we'd sourced samples of Echinacea purpurea aerial parts from China, Europe, and North America, we then tested the levels of phenolic acid and chicoric acid, the two most sought-after phytochemicals.
The organically grown raw material samples yielded the highest potency, according to our laboratory tests, regardless of location.
Based on the test results, we then sourced large batches of Echinacea purpurea and harvested them at their peak to formulate samples to our custom specifications.
Cultivation and Extraction
Based on those pilot batches, we partnered with organic herbal growers who practice regenerative agriculture, and could provide Echinacea purpurea grown and harvested to meet our quality standards.
Once we placed the order, our growers standardized their cultivation and harvest practices for maximum potency and minimum waste.
Our extraction process also optimizes efficiency and potency – so we can use less of our organic herbal raw material to yield the same precise specifications.
We are working with them to increase their sustainability efforts to meet new standards.
Each lot begins with organic Echinacea purpurea aerial parts, then we standardize the naturally occurring phytochemicals, including chicoric acids, phenolic compounds, and polyphenols. Our Echinacea purpurea extracts are appropriate for dietary supplements, and functional foods and beverages. We currently can create Echinacea purpurea extracts with the following specs.
Organic Echinacea purpurea Water Extract:
1-4% Chicoric Acids
2-6% Phenolic Compounds
1-2% Polyphenols
Ratios 5:1-10:1
​Conventional Echinacea purpurea Hydro-Alcohol Extract:
1-7% Chicoric Acid
2-8% Phenolic Compounds
4% Polyphenols
Ratios 5:1-10:1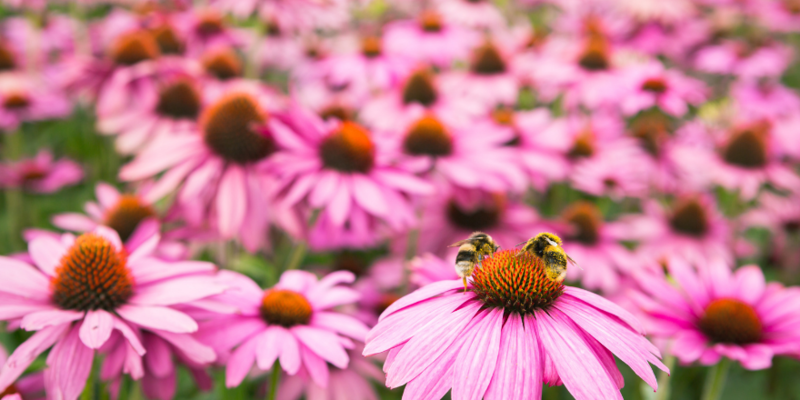 Creating Solutions: Addressing Adulteration and Sustainability
When creating any new extract, we keep the same standards in mind. Two of the biggest issues we face in the herbal industry are adulteration and sustainability. We constantly monitor ingredient purity to ensure that ours are not adulterated. We have robust systems in place that offer confidence in our ability to ensure identity, quality, and purity of all of our materials.
Adulteration has always been a problem, but starting in 2020, the supply chain issues and increased demand for certain herbs (particularly those for immune health) led to some bottlenecks. Detecting adulteration requires constant vigilance and strong relationships; adulteration evolves like a living being. We have to stay a few steps ahead.
At the same time, more consumers – and more of our customers – want only sustainably made ingredients. Sustainable sourcing is essential to maintaining our values here at Nuherbs and keeping aligned with the philosophy of Traditional Chinese Medicine. It allows us to live in balance with nature, without causing undue harm, while also contributing to the sustainability, success, and longevity of our business – and those of our customers. We knew these Echinacea purpurea extracts needed to align with both of those pillars.
Avoiding adulteration starts by building partnerships designed to endure, with growers and suppliers who share our ethos. From there, we use rigorous scientific testing to deliver lab-confirmed, pharmacopeial-grade herbs. We authenticate all herbs for quality, safety, and active ingredients. We also test for pesticides, heavy metals, microbacteria, and trace contaminants. It's how we go beyond regulatory compliance.
On the sustainability front, we start with a supply chain that is transparent and traceable, which allows our extract to be made with Echinacea grown using regenerative agriculture practices. We choose geo-authentic growing areas for each botanical. The microclimate where our herbs are grown has a direct impact on their characteristics. Starting with the right environment allows our partner growers to minimize intervention and grow herbs in such a way that they give back to the soil and ecosystem, rather than deplete it. Given where and how the herbs are grown, the extracts are fully traceable.
Nuherbs Bespoke Extracts™ Can Help You
If you don't see what you need, we can customize extracts to your specifications. For the last 42 years, we've specialized in sourcing the highest quality, sustainable Chinese herbs. And, as the herbal marketplace became more globalized, we expanded our sourcing to better serve our customers.
And if you have a specific supply chain and/or R&D need, we will be happy to explore it under our Nuherbs Bespoke Extracts program, or provide standardized extracts for you. Send us an email or call us today!