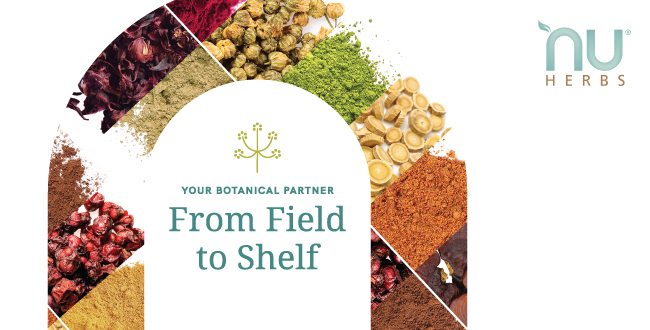 Did you know that we offer custom manufacturing for herbal extracts? We started offering our Nuherbs Bespoke Extracts in 2017, where we used our organic and/or lab-tested herbs to manufacture a designated ratio extract for botanical formulations. We allowed our customers to choose the strength (the ratio), the solvent, and carrier they wished to use.
In 2019, we expanded the Nuherbs Bespoke Extracts line by offering standardized extracts (chemical markers) in addition to being able to select the type of solvents, and carriers, so that our customers could use it in an expanded range of their products. We designed this service because our research showed that ultra-customized extracts could be used by our clients as a key differentiator in the consumer marketplace to expand to delivery formats and/or label claims.
In order to create them for you,. we utilize advanced R&D capabilities that allow us to go beyond just choosing the parameters of the solvent and carriers to where we can help solve technical challenges you face, such as solubility of the extract as you switch to different delivery formats to satisfy customer demands driven by the latest health and wellness trends.
How Are Bespoke Extracts Created
Where Our Herbs Come From: When we create our herbal extracts, we use the herbs and botanicals that we source directly from the farmers, growers and wildcrafters we have relationships with. We have over 300 herbs we can work from, with the ability to build new herbal supply chains based on our customer's needs.
We Verify the Identity, Test For Purity and Potency: The herbs used in creating our extracts are lab-tested, sustainably harvested, and geo-authenticated. We verify the identity of all our herbs and can trace them by lot identification to where they were grown.
When it comes to testing, we go beyond regulatory compliance. We test each herb for heavy metals and put them through a screening that analyzes them for pesticides, fungicides, miticides, and herbicides. We also test for microbiological contamination and foreign materials. Our extracts meet cGMP and FMSA and CITES regulation compliance requirements.
Once we verify the purity and potency of the botanicals we're working with, we put them through milling processes specifically designed to capture and preserve the phytochemicals you're looking for. The majority of our milling process is done at coarse grind as to not compact the herb and compromise the potency. Our bespoke extracts are produced according to the same strict quality standards as all the herbs and supplements we supply.
Bespoke Extracts Versus Off The Shelf Extracts
In the last few years, we've begun to see many of our customers moving toward bespoke extracts versus off the shelf extracts, commercialized formulations. There are many reasons why, but for the largest drivers have been:
Solving technical difficulties - When you change delivery systems, you have to change the ratios of the ingredients to maintain potency. You may also have to change the carrier or strength of the ingredients as well. We can help you do this.
Clean Label - Consumers today are increasingly insisting on clean label products, which means you have to control the carriers and the processes you use. We can help you do this. If you are formulating a product and want to include something that you can't find off the shelf, we can make you a clean label version of it.
Less ingredients on a label - We can help you develop formulations that eliminate ingredients without sacrificing efficacy, especially if they're not active ingredients (carriers), help you get rid of additives, and other processing aids.
Non-GMO - We can help you create products that can support non-GMO claims.
Organic - We can help you manufacture an organic version of key products that meet certifications.
Traceability - We can verify where raw ingredients were grown, gathered and processed.
There are many quality standardized extracts with general science behind them available to manufacturers.
Why You May Want to Explore Bespoke Extracts
You may be asking yourself, is there a market for bespoke extracts? Are there indicators that show a growing demand? The answer is yes. In general, we've seen consumers growing tired of pills and moving to other formats such as powders to mix in beverages, gummies and other options. The popularity of CBD, which comes in a wide array of formats, has driven interest in other delivery forms.
As the industry increasingly moves away from primarily solid dosage forms, technical issues such as solubility and taste inherent in currently available extracts can be problematic in beverages, foods and gummies, for example. There are many indicators, but look at the market trends, look at the growth in functional foods, and it's clear that formulators need ingredient forms that work for the products they are creating.
We Can Help You Create Custom Extracts
Whether you bring us a new concept that hasn't been developed, a formula you've created, or you want to choose from an extract we already offer, we work with whatever stage you're in.
Based on your product requirements, we can tailor and formulate an extract to meet your exact needs. This can be as simple as swapping out conventional herbs for organic ones, or choosing carriers or solvents to transform it into an organic standardized extract. We can develop an extract that is water soluble, if the current offerings are not.
We can offer pre-mixes. We can help standardize the carriers, bulk density, particle sizes, so that our customers don't have to manipulate the ingredients prior to use, or send it elsewhere for intermediate steps, thereby increasing operational efficiencies.
We are really here to be a true partner to help deliver better performing products, production, and efficiencies. This really isn't anything we can't do for you. We are extremely excited to start collaborating with your brand to help you create your next best seller.