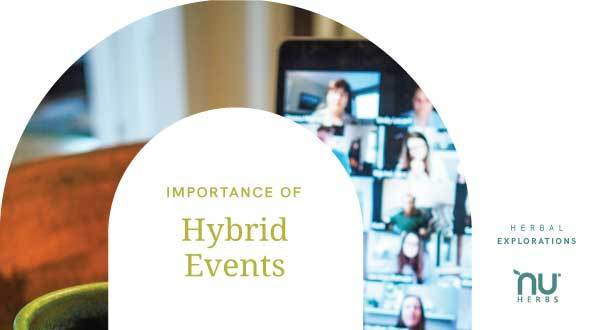 Jon Benninger of Informa, and Wilson Lau of Nuherbs will be discussing the importance of hybrid events and platforms such as SupplySide365 and Jon's Morning Mingle are for the herbal supply chain.
In this episode, they discuss and explore how the herbal industry can use online platforms to supplement traditional trade shows to discover new suppliers, customers, and make new connections.
Jon and Wilson look at how companies will do business in the dietary supplement industry using technology from 2022 and beyond.
---
Wilson:
Thanks for joining me for another episode of Herbal Explorations. I'd like to welcome my dear friend, Jon Benninger, the VP and Market Leader for SupplySide portfolio at Informa. You've all been to his SupplySide conferences in Vegas. And where is SupplySide East now, Jon?
Jon Benninger:
What's that? East? In Secaucus?
Wilson:
Secaucus. Still in New Jersey.
Jon Benninger:
Still New Jersey. That's right.
Wilson:
I was hoping you guys-
Jon Benninger:
People... It's a very convenient place for a show. There's so much business right around that area.
Wilson:
Well, I'll be joining you guys in Secaucus this year, so can't wait to see you there.
Jon Benninger:
Fantastic.
Wilson:
Yeah. But we're here today to talk about the great virtual events you put together, SupplySide Network 365 and Jon's Morning Mingle, and the importance of digital events in the herbal supply chain going forward. So thanks for joining me today and for launching these two wonderful virtual platforms.
Jon Benninger:
You know, it's a brave new world, right? When the pandemic began and in all the events... Not just events, but travel in general, just stopped. I think everybody, all of us, had to try to figure out what to do. How do we adjust and how do we continue on with our businesses and our processes in that world, where we weren't able to gather or travel and meet, and that sort of thing. So just an amazing amount of innovation across the entire economy, not just even in our industry, with companies figuring out how to do it.
Wilson:
Yeah. I think the key was really figuring out how to do these things. To foster connectivity and connections in the time where we were locked in our homes, by ourselves or with our families. And really didn't have that interaction with our colleagues and friends in the industry. So I think what you've done has been great. I really want to tell people that are listening to the show, to join you for your Morning Mingle and networking. I think the platform's great and it's just a good way to network among your peers. And it was really enjoyable.
Jon Benninger:
That is correct. Yeah. So it's every Thursday, and it's speed networking, video-based speed networking. So we've all been doing a ton of that, with Zoom and Teams and all these other things. We're using a platform here that we find really easy to use. We've all participated in those things online that were great, we participated in plenty of them that were frustrating or difficult to use or whatever. And this one we really like. So it's new for us. We're still learning. But it's every Thursday and there's a little bit of a theme.
Jon Benninger:
The first one we did was for CEOs and owners and entrepreneurs and executive level leadership. The one that we just did yesterday, was for marketing and business development and communications people, primarily. And then the one next week, as you mentioned, is for R&D and product development, formulation, and food science and nutrition science, and those sorts of roles. And then the one after that, the following week will be for supply chain and purchasing and QAQC and all that. But that said, anyone can join anytime. It's open to anyone. We're just trying to put a little bit of framework around it for people, but yeah, everybody's welcome to join any time, to do a little bit of speed networking and mingling and expand their networks.
Wilson:
It's great. I think... I would almost encourage you to add a five minute topic of interest in the beginning as just as a icebreaker. Maybe it'd be a good way to get people to come listen to one of their peers talk about something interesting.
Jon Benninger:
That's a great idea, actually. So this platform we're using for this speed networking, we're using it for the Morning Mingle every Thursday. But we're also applying and I'm really excited... My colleague, Sandy Almendarez, our Senior Content Director for the SupplySide portfolio, which includes SupplySide, all the events, but also Natural Products INSIDER, to Food and Beverage INSIDER. We do a lot of online and we have for years.
A lot of online webinars and panel discussions and different types of events with those brands, that our content team and our editors lead. At the tail end of each one of those now, we're going to have one of these speed networking events. So it's kind of cool, I think, because we've all attended plenty of webinars and panel discussions online, whether they're live or taped or what have you. And they're great, but a lot of times, you're passive in the audience. Maybe you can submit some questions and that sort of thing, but you can't really meet other people real easily. With this, you can. So at the end of each of these panel discussions or webinars, we'll be able to go into this speed networking environment. And that way the speakers, the presenters, the audience sponsors, underwriters will have a chance to actually meet each other, one on one, around that, whatever that common theme was for that program.
Wilson:
That's great. That's a great use of that platform. How do you see people using these virtual platforms and others like them in the discovery and networking process, especially in relation to our dietary supplement or herbal supplement industry?
Jon Benninger:
I think it's really evolving and it's evolving fast. When the pandemic first hit and everything literally shut down, our team pulled together and said, "Okay, what do we do?" I think every company did that. Y'all pulled together and said, "What do we do? How are we going to manage this? How are we going to keep our current processes going? And then how are we going to do new things to try to keep communications alive?" and all that. It's evolved a lot since then. So we're not at a point now where everything's completely shut down. We're seeing a return to events. Thank goodness. I was just at a conference earlier this week. We're seeing a return to travel.
We're not out of the woods yet, but things are moving forward. It's evolving very rapidly. So what we're trying to do is really listen. Listen to the industry and the audience. People throughout the industry, whether they're running companies, if they're involved in purchasing or selling or product development, whatever it is. And try to learn from them where they're still experiencing disruption, where they would like some help or some efficiencies. Whether that's discovering ingredients or suppliers, or making connections with people, or learning those sorts of things.
And so, we're not done. I don't think we'll ever be done. We're in this hybrid world now. We used to talk about physical and virtual, or in-person and digital like they were separate. And I guess you could separate them, but they're not really. They're all one and the same. And they're just a part of our toolbox now for how we communicate with each other and conduct our business, and work internally with our teams and our employees and colleagues. And that's not going to change. We're never going to go back. We're only going to go forward.
And I'm excited about the new forward, what that looks like. Because it's that hybrid combination of the physical and the digital. And how do we take the best of both and have them actually, not just coexist, but make each other better? There are things we can do to take advantage of both and really get creative and do some amazing things that we probably should have been doing a little more of before the pandemic. But sometimes it takes a good crisis to drive that innovation.
Wilson:
Yeah. There's nothing like a good crisis to drive change. As you know, I prefer in-person events, but going forward, like you said, I think we live in this hybrid world. We're not going to go back. It's not going to be pure digital, not pure in-person. Do you think that conferences, going forward, will be hybrid events, or do you think the digital component will be more like the connective to fill in the gaps between live events? Or what do you see? How do you see it working out?
Jon Benninger:
I think it's absolutely both. Certainly the always on... The beauty of the digital and virtual world, and we see it even beyond our industry with talk of the metaverse and virtual reality and augmented reality and technology. There's just so many cool things going on that are affecting us, not just in business, but in our personal lives, at every part of our life. And that's exciting. So it's always on. So definitely, throughout the year, but at the events, it's also something really powerful we see. So we think of it a lot.
When we first started talking about, "What do we do and how do we build this and what should it look like?" We thought a lot about the sporting events world. So if you think about a baseball game or a football game or a soccer match or whatever, it's a live, in-person event, where do you have people there in the stadium having that experience. But it's simultaneously a virtual event, for the people experiencing it, whether they're streaming it or watching it on television, or however they're live, engaged with that event.
And it's one audience. One is there physically. One is there in some other way, but they're all there. And it's all the audience and you are serving that entire audience. But the experience is a little bit different. Some of it's shared, and some of it's unique to whether you're there physically or there in some other way virtually. So during a break innings, if you're at the... Physically at the game, maybe the mascot's running around, shooting t-shirts into the crowd and music's playing, and there's stuff going on, and all that. And if you're experiencing it virtually, there may be commercials. There may be interviews with coaches, or updates on statistics or other games, and all that. Then you come back together for the live action. So we think of our physical events much in the same way. We have a virtual audience. We have a really large virtual audience.
And if you think about accessibility in particular, not everybody can go to every show. Maybe it doesn't fit for them time-wise. Maybe it's the distance. Maybe it's the budget and the expense, if they're a smaller company or someone that's newer in their career and they just don't have that budget to go for four days to some conference somewhere and have all that money spent. How can we use virtual and digital to expand access to this information, whether it's education sessions and panel discussions and content at the events, or even connections at the events? The ability to have meetings or connect with people or companies. And that's what we're really excited about, is that hybrid thinking. That, how do we serve these unique audiences based on how they're engaged with the event? And it's not one or the other. It's both.
Wilson:
Give me one second, Jon, I'm going to flip my blinds.
Jon Benninger:
Sure.
Wilson:
I love your sporting metaphor. I think one event that I've been to, sporting event that is really hybrid in nature, because there's no other way really to consume it in person, is UFC fights. Because if someone's facing one direction and you're facing the wrong direction, you can't see anything. So you're forced to look up at the televised.
Jon Benninger:
The screen.
Wilson:
Yeah. Because, unlike any other sporting event... it's just different angles. But in that sport, there's a dead angle where you can't see anything. You might as well just go on your phone and go check your email or something instead.
Jon Benninger:
Right. Exactly.
Wilson:
What's the biggest opportunities you see for ingredient companies in the digital space?
Jon Benninger:
Oh boy, there are so many. You know, the beauty of digital... And this isn't new. This was around before the pandemic. Again, we've all been so focused on it because of the pandemic, because it forced us to do these things but, you know, Zoom and Teams and a lot of the stuff that we've all been applying these last couple years, those were around. And some people were using them, but. A lot of us weren't really leaning into it because we didn't have to, even though maybe we should have. So I think that expanded connectivity is kind of the big bucket that it all fits into. If I'm an ingredients company, what am I trying to do? Well, one, I'm trying to create really effective, safe, healthy, successful ingredients that are useful so that people can make these awesome products, whether they're foods or beverages or supplements or personal care products or whatever they are.
You know, we had a tough couple of years there, not being able to hold any events. Not really good for our business. But we are back in a hiring mode and we have a lot to do because we... Just the last couple years have been so disruptive for us. And the beauty of digital is, gosh, we... Look at the talent pool. And now with accessibility the way it is through digital and Zoom and video, and all these different tools that we have, it's really just enhanced the ability to find talent wherever that talent is, and bring it in and be a part of the team.
So that's exciting, not just for us, but for every company, I think, that chooses to embrace that approach. And then it's also, now how do we drive that creative innovation process? The ability to share information faster, more efficiently. It's just incredible. So I think that helps companies a lot. And then access to the markets and access to people. So let's say I have that ingredient. I have my science all buttoned up, regulatory, everything, I'm ready to go. And now it's time for me to get out there to the market and make some deals and have some conversations and all that. Trade shows are going to remain important for that. Obviously, they're great. Nothing like face to face. We believe in it. We love it. And I hear that over and over from people, especially as shows have started to return, how excited they are to get together in person.
But digital allows us to do things throughout the year and have those conversations throughout the year. I've talked to quite a few people in R&D and purchasing and product development roles in the industry, at consumer package goods companies and supplement companies and all that during the pandemic in particular. And they're really excited about this digital opportunity. For instance, the one that you mentioned, ours, SupplySide Network 365.
We have a large and expanding database of those ingredient suppliers, as well as suppliers of contract manufacturing and packaging and testing services, and all the things you need to put a product together, and ingredients themselves, with quite a bit of detail on them. And people are using that. They're saying, "Wow, this is cool." Because they can filter it many different ways. Let's say they're working on an immune health product or an organic salad dressing, or whatever it is they're trying to make. There are these filters in there, so they can find ingredients that they may not have heard of. So for the ingredient supplier, I think it's a great opportunity to get in front of more people more efficiently, and drive conversations, drive leads, and eventually drive more business.
Wilson:
As I'm listening to you, I have identified three big themes that I think ingredient companies can really do, use this digital opportunity, hybrid work environment. I love your comment about a distributed workforce and access to a greater and talented labor pool. That's wonderful. I think it's true of all industries. I think also as we enter the hybrid world, our physical needs also are changing. Five years ago, 10 years ago, who cared about blue light? Now we got blue light glasses. We got blue light supplements. So it's not only... There's innovation that needs to happen to accommodate our usage as well. Like you said. And I think the other thing is... That's really exciting as I'm listening to you talk about conferences is, how do we use our digital tools that we're using on an everyday basis, to increase the velocity of our sales flow right now?
I no longer have to be like, "Hey Jon, let me go home and go back to the office and go check, and then I'll send you an email and get you all the details." We can literally be saying, "Hey, you need to get a run. We can get you on the line on March, or you can have this ingredient in March. I'm going to prepare all the paperwork. When you get home, you'll have a digital document ready for... to DocuSign or e-sign it."
Jon Benninger:
Yeah. I think that's the promise of digital. And it's already happening and it's been happening for a while, but compressing that timeline. Making it more efficient. And it's happening and it's just going to continue to happen as we figure out how to use these different technologies, how to put them together. User experience is a big part of it with digital. That's something we've known for a while and we continue to focus on. And we have a lot of work to do in that area still, but it has to be easy. It has to be enjoyable. You know?
We've all had those experiences where it's not easy or it's not enjoyable. And maybe you have to use it because the work needs to get done, but ideally it would be easy and enjoyable as well as productive. So that's what we're focused on is we continue to try and build this stuff and listen to the needs of the industry, and serve those needs the best that we can. But yeah, it's super exciting. I have to tell you. It's moving so fast. I can't imagine even where we'll be a year from now, with the way that we do things and how much more effective and efficient we are. It's a great time to be involved in stuff like this.
Wilson:
It's amazing that two herb people are talking about UI and UX, user interface and user experience. Who are we? You know, we're not talking about phytoconstituents and the soil type. I think the reality is all industries are becoming digitalized. It doesn't matter if you're growing things, or you're actual Microsoft and tech company. The tools are invasive, and everywhere. So we have no choice but to adopt. So I think that's a great thing that we are starting this conversation, even though we're, at heart, really true herb nerds and whatnot. But the sign of the time says, herb nerds need to know UI and UX, too.
Jon Benninger:
That's it. You know what? It's just another tool in the tool bag. I've been around a long time in this industry. So I can think back on all kinds of technologies that we used to use, when they were timely and appropriate. And we don't use some of them, and some of them have lasted. But it's always been about, how do we do things better and faster and that sort of thing. There's so much going on from blockchain and digitization and big data and artificial intelligence and machine learning, robotics, 3D printing, You think about all these things that are happening simultaneously. A good friend of mine and a good a friend of the industry who's been around in the industry for quite some time, Dr. Skye Lininger. He was the founder of Healthnotes, and a great guy.
Jon Benninger:
He teaches a course at Portland State University right now. We had him as a guest speaker for our internal team. And it was just really kind of mind blowing, but inspiring at the same time. He teaches a course on the convergence of exponential technologies. So if you think about that. Technology is increasing exponentially right now in all these areas that I just mentioned, robotics and big data and AI and all that stuff. And as you combine different of these technologies, you can get really creative and innovative. And we're already seeing that impact in our society and in our businesses, in our industry. And that's not going to slow down. So we think about that a lot, but it gets kind of "up here" a little bit, and then you have to bring it back down to an application level. And okay, "So what does that mean we should actually do?" But it creates all kinds of opportunity for innovation and creativity, as we figure out better ways to serve our consumers and deliver great products and run our businesses.
Wilson:
That's absolutely correct. And thanks for joining us after spending all week at the Organic and Natural Conference. What were your big takeaways from this year's event? What was something that you can share with the audience that was like, "You guys got to start thinking about this thing?"
Jon Benninger:
Well, first the big takeaway was people are just really happy to get together in person. And we've seen that. We've done a few events. Last year, we obviously were able to have SupplySide West and Natural Products Expo East, and the CRM conference was fantastic. And again, at Organic and Natural Health this week, just a lot of joy. A lot of people really thrilled to reconnect with people they've known for years and make new connections with people they haven't known. And so that's going to continue, I think, as we return to these gatherings. That was a given, but also just a lot of interesting ideas put forward there. And some that... You know, I'm pretty deep into the industry here. I go to a lot of events. I'm involved with a lot of different groups and have a lot of conversations and still, there's so much going on.
Every time I go to one of these events, I learn stuff that I just didn't even know existed. There was one example, a company that is offering clinical... Excuse me, research using nematodes. Worms. These tiny little worms to do... Instead of doing in vitro, or even in some cases in vivo, animal studies. And the information that was presented just kind of opened my eyes to the potential here, to continue to think about new ways we can approach the same challenges.
In this case, it was a technology that allows to get results a lot faster and a lot cheaper. And we all know how important those studies can be, whether it's safety or toxicology, acute toxicology, those sorts of things. And this company is presenting a whole new way to think about that, which was really cool. So that was one. There was a lot of discussion about the bigger mission of our industry.
Yeah, we're businesses and we have to pay the bills and make a profit, and all that stuff, obviously, that... But that, is that really the mission? And that's why I love this industry, because it's not. We have to do those things, but the mission is bigger than that. It's a bigger purpose. It's building a better world. It's delivering more health for more people and more access to healthy products. And this can really have an impact on our societies and on our communities, and our loved ones. So a lot of discussion on that and I find that just very inspiring. So it's not just, "Oh, we get up today and we do our job because we have to get these tasks done, and hit these numbers and goals." Yes, we absolutely have to do all those things, but it's the why behind all of that.
And this group in particular was really focused on the why. What are we doing about the environment, and how can regenerative agriculture play a role there? What can we do to move that forward even faster, so that we can deal with these really big challenges that the world is facing? How do we address disparities in healthcare and access? We may have all these wonderful herbal products and dietary supplements and organic foods, but if the people who need them the most don't have access to them, what are we going to do about that? Are we okay with that? I don't think we are. And so this group was talking a lot about those big ideas too, and that I think... It's just inspiring. It's why we wake up each day excited to do what we do. Because yeah... Again, like I said, we have to make a profit, we're running businesses.
We might have shareholders or investors, and all that stuff remains true. But the why behind it is so much bigger than that. And it's great to get together with a group of people that think that way, and it just reinforces it and reminds you of that higher purpose that we're all here to serve. So for me, that was the biggest takeaway. Just coming back, renewing that well of inspiration to keep working, even when things get challenging. Even when things are daunting, to say, "You know what? This is really important stuff that we're doing here."
Wilson:
That's awesome. And I think purpose, purpose, purpose, purpose, right? And what is our purpose? So I love ending on that note, and let's talk soon. Can't wait to see you at Expo in March.
Jon Benninger:
Can't wait to see you. Thanks for having me on, Wilson. And keep it up. I've watched a couple of these interviews. It's really insightful, and can't wait to see the ones you're going to do in the future.
Wilson:
Thank you so much. Have a wonderful day.
Jon Benninger:
All right. You too.