Using Chinese Herbs to Create Non-Traditional Holiday Meals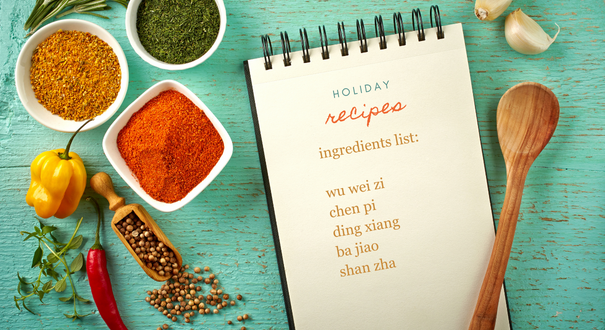 Something we love to do here at Nuherbs is to talk about food and try new recipes. With the holiday season right in full swing, we took out our pots and pans and tweaked some traditional Thanksgiving recipes to bring some Chinese herbs and flavors to the table.

Poultry Stuffing with Walnuts and Red Dates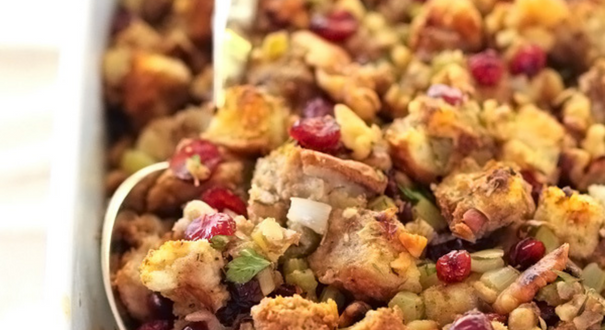 1/4 cup butter (1/2 stick)
1 large onion, chopped
1 small garlic clove, minced
3 1/2 cups low-salt chicken broth
2 cups yi yi ren (about 1 pound bag)
1 cup hong zao, chopped, rinsed and pitted
1/4 cup chopped fresh parsley
1 tablespoon chopped fresh thyme
1 cup hu tao ren (walnuts), coarsely chopped (toasted preferred)
1/2 cup chopped green onions
Preheat oven to 350°F. Butter a 9 inch square baking dish (or its size-equivalent).
Melt butter in a large heavy pot over medium-high heat. Add onions and garlic and sauté until tender, approximately 4 minutes. Add chicken brother and bring to a boil. Add the job´s tear, reduce to medium-low and allow to simmer, covered, for about 30 minutes or until most liquid is absorbed.
Add the the red date, parlsey and thyme into the yi yi ren. Cover and cook until liquid is absorbed, approximately 5 more minutes. Then stir in the walnuts and green onions. Season with salt and pepper to taste.
Transfer the stuffing evenly into the dish before covering with a buttered piece of foil, buttered-side down. Bake until heated through, about 40 minutes. Serves 6-8 generously. This recipe was adapted from Williams Sonomia and Foodie Crush (image credit).
Stuffed Red Dates
Red dates or jujube are one of the most popular health food in China. Once dried, red dates are wrinkled and changed into maroon-colored fruits. They are soft on the outside with a sweet smell and moist inside. In TCM, red dates are not only as food, but also as used in certain formula. Here's a great video of how to create them, or you can grab this recipe from Jaja Bakes.
Hawthorn and Schisandra Turkey Brine
For a 14-16 pound turkey
1 cup Kosher salt
1 cup wu wei zi
10 pieces chen pi
1 tablespoon ding xiang
6 pieces ba jiao
1/2 cup shan zha
1/2 cup light brown sugar (optional)
1/2 stick unsalted butter
5 quarts water
Try to remove the seeds from the shan za. Rinse all of the herbs and drain well. In a coffee grinder or other powerful processor, grind all ingredients together, in batches if necessary.
In a large saucepan over high heat, combine the brine mixture with the water and bring to a boil. Reduce the heat to medium-low and simmer, stirring often, until the brine dissolves, about 5 to 10 minutes. Remove from heat and allow the brine mixture cool to room temperature.
Rinse the turkey inside and out with cold water and place in a large brining bag. Carefully pour the brine mixture into the bag. Seal the bag, pressing out the air, and place in a large stockpot or other container large enough to hold the turkey. Refrigerate for 24 to 36 hours, turning occasionally.
Carefully remove the turkey from the brine and discard the liquid. Rinse the turkey inside and out with cold water and pat dry with paper towels. Trim off and discard the excess fat. Place the turkey, breast side up, on a rack in a large roasting pan. Rub the skin evenly with the butter. Truss the turkey using kitchen twine. Let the turkey stand at room temperature for 1 hour. Serves 12 to 14.
Position a rack in the lower third of an oven and preheat to 400°F. If you would like to add aromatics such as sage, rosemary, apple, onions and cinnamon to the turkey cavity, do so now.
Roast the turkey for 30 minutes at 400°F. Reduce the oven temperature to 325°F and continue roasting, basting every 30 minutes with the pan juices. If the breast begins to cook too quickly, tent it loosely with aluminum foil. After about 2 hours of total roasting time, begin testing for doneness by inserting an instant-read thermometer into the thickest part of the breast and thigh, away from the bone. The breast should register 165°F and the thigh, 175°F. Total roasting time should be 3 to 4 hours.
Transfer the turkey to a carving board, cover loosely with foil and let rest for 20 to 30 minutes before carving. This recipe has been adapted from the Williams Sonoma website.

Hawthorn Sauce (Cranberry Sauce Alternative)
1/2 pound dried Hawthorn berries (shan zha)
6 cups water
10-12 tablespoons sugar
Soak the shan zha in water for 15 minutes. Drain and rinse. Soak for another 15 minutes. Drain well.
Bring 6 cups water to a boil, then add the berries. Cook for 15 minutes at medium heat, stirring every so often. Add sugar. Turn heat down to a simmer and cover, stirring occasionally. Cook for another 15 minutes. Taste for sweetness and add sugar if needed, incorporating it into the sauce. Remove from heat. Let cool and thicken to a delicious sauce. Serve as you would cranberry sauce or gravy. Serves 4-6.