This year, Nuherbs is partnering with creators, influencers, herbalists, and practitioners that are taking Traditional Chinese Medicine in new directions. This month, we partnered with Zoey Gong, RD, to create a series of recipes based on some of our best selling herbs and botanicals. Here's the first one. Let us know what think of it.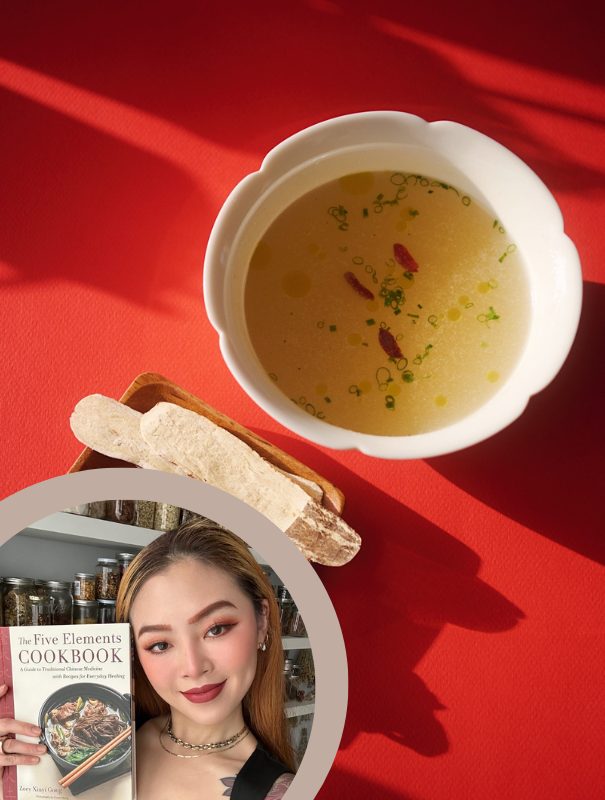 Egg-free| Dairy-free | Gluten-free | Nut-free
Yield: 8 servings
Ingredients:
For bone broth:
8 pieces dried shiitake mushrooms, rinsed
2 tablespoons dried black wood ear mushrooms, rinsed
1 whole (3-4 pounds) chicken, cleaned
4 stems scallions, chopped (both green and white parts with root ends removed)
2 yellow onions, roughly chopped
2 large carrots, roughly chopped
1 celery, roughly chopped
8 cloves of garlic, peeled
8 thick slices (45g) fresh ginger
1 bunch fresh thyme
4 pieces fresh or dried bay leaves
¼ cup (40g) goji berries
5 pieces (15g) sliced astragalus root (huang qi )
6 pieces (25g) sliced angelica root (dang tui)
Sea salt, to taste
Optional Toppings & Pairings:
1 tablespoon chopped scallion
1 teaspoon sesame oil
2 tablespoons shredded dried seaweed
½ cup meat from chicken
1 tablespoon goji
soft boiled eggs
sautéed leafy greens
roasted mushrooms
microgreens
Sea salt or soy sauce, to taste
Preparation:
In a small bowl, soak dried shiitake and wood ear mushrooms in warm water for an hour. Reserve the clean soaking water.
Meanwhile, in a big mixing bowl, place the scallions inside the cavity of the chicken and set aside.
In a big soup pot, place chopped onions, carrots, celery, garlic, and ginger slices in the bottom. Put the chicken on top of them. Add bay leaves, thyme, and soaked mushrooms along with the soaking water. Add additional water to cover the chicken and bring it to a boil over high heat. Reduce the heat to medium-low and cook for two hours.
Skim the foam on the surface with a mesh skimmer. Add goji berries, astragalus root, and angelica root into the soup pot and stir to make sure they are submerged. Cook for an additional hour.
Season with sea salt. Remove the chicken from the pot and reserve all meat. Discard skin and bones. Strain the rest of the solids from the pot and discard, unless you want to consume the vegetables. Reserve the bone broth.
To serve, add bone broth to a soup bowl and top with preferred toppings.