Herbal Explorations Vol. 2: From The Field Report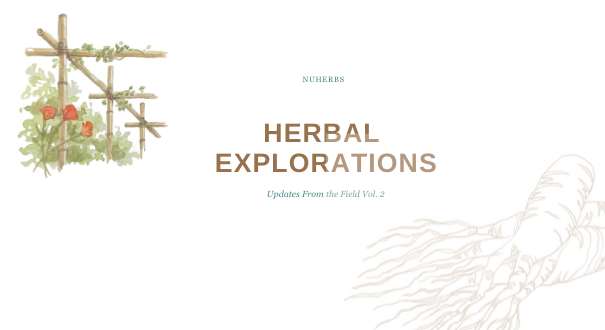 As I am writing this logistics update, there are currently 67 container ships sitting off the coast of Long Beach waiting for their turn at a berth, and that doesn't account for the ships waiting to unload at the other West Coast ports. No one in the industry has ever seen this kind of traffic before.
Carriers have taken sailings from other lanes (routes) and allocated to the transpacific lane, specifically China-US where possible. As shipments for the holidays start ramping up, I anticipate that shipping cargo and more importantly our herbs will become more and more difficult with longer and longer transit times. Currently, I am penciling 60 days for transit.
You may say, "wow that long! Are you serious?" This is the breakdown: 2 weeks or so to book a container, the container being delayed for a week due to issues at port, 3-4 weeks for transit time and another 2-3 weeks waiting for the shipment to unload.
And if you aren't located next to a Port like us, then you still have the inland transportation of getting your shipment from Port to your warehouse. This number could grow, if there are any more unforeseen issues that crop up, like a winter blizzard.
The cost of shipping may have reached a temporary peak as some shipping lines such as HAPAG-Lloyd and CMA CGM, have announced that they will not raise rates for the next couple of months. So the shipping rates may not increase much more, but they will now shift the uncontracted / available containers from the highest bidder to prioritize their better clients. This change will strongly favor bigger shippers e.g. better clients away from smaller shippers who don't have contracts and usually rely on the spot market. And even if the container rates may not increase, there is a plethora of fees that can and will increase, such as the number of days of free (or included) warehousing at Port. So, I predict cost of shipping will remain high, and likely continue to increase despite this possible top rate for contracted containers. This change may lead to longer lead times for us to get a container.
I don't see this resolving anytime soon. From my conversations with my friends and colleagues in China, there is a glut of shipments waiting to be shipped. All third-party logistic warehouses are packed to the brim full of goods, and external / temporary warehouse is at a premium. Just remember a lot of factories are designed to continually produce items to ship immediately or soon after they are produced, so they can't produce anything until they have shipped out the finished goods.
These finished goods need to find a temporary home while they wait for shipping containers if there is no room at the factory. We are in better shape because our warehouses are designed to store the large quantities of herbs that come in all at once post-harvest, so we usually have plenty of storage space throughout the year. However, it will be interesting to see how this upcoming harvest season will impact the warehousing situation for botanicals.
The most important takeaway is that the lead times and cost of shipping are both increasing, so plan accordingly if you are a manufacturer or an own-label brand because unless there is a significant drop in demand, the carriers are already maxed out in what they can do. You're planning much father out than in the past helps us help you.
For our herbalist and acupuncturist customers, we will do our best to ensure that you have what you need, when you need it. There may be temporary out of stocks that are well beyond our control, but know we on top of it and doing our best to ensure that it doesn't happen. As we have throughout the uncertainty of this pandemic, we'll do our best to find a way to meet your needs.
You can email me at wilson@nuherbs.com to start your planning for herbs that will be harvested this Fall/Winter.