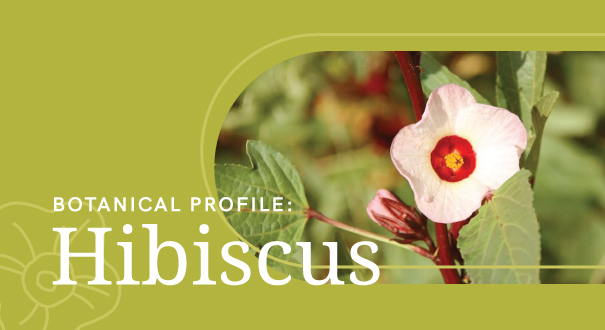 Chinese Name: luoshen hua (洛神花)
Common Name: Hibiscus
Botanical Name: Hibiscus sabdariffa L.
Part(s) Used: Calyx
Energetic Properties: Cool
Flavors: Sour
Naturally Occurring Components: Organic acids (Citric acid, Malic acid, Tartaric acid, Hydroxycitric acid (HCA), Hibiscus acid (HA)) and Anthocyanins (Delphinidin-3-sambubioside (D3S), Cyanidin 3-sambubioside (C3S), Delphinidin 3-glucoside, Cyanidin 3-glucoside), and hydroxycitric acid called hibiscus acid
Uses: Hibiscus is used to support oral, digestive, and reproductive health.*
Applications: Dietary supplements, cooking and recipes, functional foods, tea, drink concentrates and mixes.
---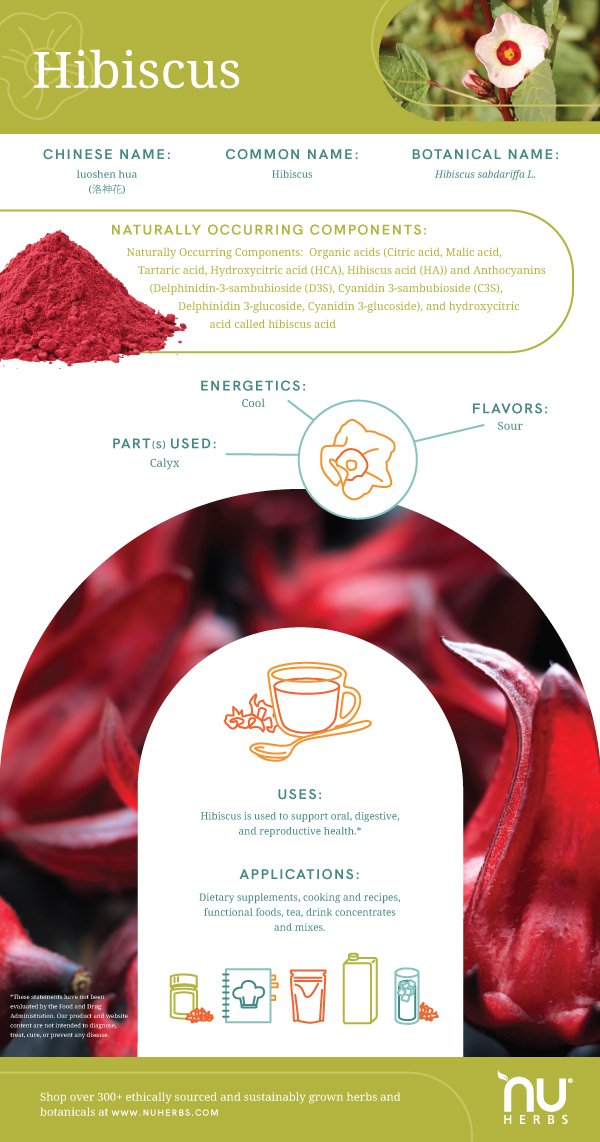 Hibiscus is known as much for its beautiful flowers, vibrant ruby red color and cooling sour flavor as it is for its health benefits.* The flavor and color are so characteristic of the herb that it's known as "sour tea" or "red tea" in the Middle East and elsewhere. While certain species of Hibiscus are purely ornamental, there are two primary ones used in herbalism across the globe. We choose to use Hibiscus sabdariffa.
Hibiscus is native to Africa, but this shrublike tropical plant spread to the West Indies and Asia by the 17th century. The calyx is the plant part most often used in herbalism. These pods look like flower buds, but they are what remains after a flower drops its petals. The calyces are ädeeply reddish purple, which yield a tea that is as vibrant as it is sour. Hibiscus is in the Malvaceae or mallow family, placing it in good company with plants like linden, cotton, cola, durian and baobab.
The History of Hibiscus
Hibiscus draws its name from the Greek word hibiskos, meaning marsh or white mallow, which was bestowed upon it by the Ancient Greek physician, botanist and pharmacologist Dioscorides. He was also the author of the early herbal reference tome De materia medica, which included an entry on Hibiscus. While there are over 300 species of hibiscus, Hibiscus sabdariffa is considered to be the gold standard when it comes to quality and use.
The botanical has a rich history in ancient Egypt. The pharaohs used natural herbal and botanical extracts to treat many common ailments of the day. Hibiscus was one such botanical that grew as a shrub-like annual in the nutrient-rich sediment along the shores of the Nile River. Once the flowers had dropped their yellow and red petals, the fleshy calyces were left behind. Gathered by hand and carefully dried in the sun, the dried calyces were steeped into a strong tea, then applied topically with a cloth to manage achy muscles and joints.
Hibiscus (commonly called "Red Sorrel") was among the plants to cross the Atlantic with enslaved Africans as early as the 1500s. The Caribbean offered a suitable climate for Hibiscus, which thrived and remains a traditional beverage in cultures across the African diaspora. Hot and cold drinks, along with fermented ones, are common. They are served to cool down, at holiday celebrations and as a supportive tea. The calyces also flavor jams and baked goods.
The astringent botanical was known in cultures across the Caribbean, South Pacific, India and Southeast Asia, with diverse traditional uses and preparations. The flowers, peeled twigs, leaves and stems, along with the calyces, were made into infusions, teas, decoctions and more. From China and Bangladesh to Trinidad and Vanuatu, Hibiscus was used to support healthy menstrual cycles.* In Ghana, the peeled twigs were used as a chewstick to support oral health.* In Fiji, Hibiscus leaf juice was used for digestive support.*
Use of Hibiscus in Western Herbalism
Hibiscus is known for its vitamin C content, as well as anthocyanins, flavonoids and phenolic acids. The herb possesses antioxidant-like qualities (even more than green tea) and has "an excellent safety and tolerability record."
In Western herbalism, Hibiscus is used to:
Support the heart and cardiovascular system.*
Used to support the health of the urinary tract.*
The herb is considered cooling, often recommended as a tea during summer.*
Most of the modern research on Hibiscus has focused on supporting healthy blood pressure already within normal ranges, as well as healthy cholesterol levels also within normal ranges.*
Use of Hibiscus in Traditional Chinese Medicine
In Traditional Chinese aMedicine, Hibiscus bark, leaf and flowers are used, in addition to the calyx. Hibiscus is used to:
Promote appetite.*
Balance heat in summer, relieve thirst and promote an optimal balance of fluids in the body.*
Used to support the kidney meridian.*
Promote healthy blood pressure.*
And support healthy cholesterol levels.*
Sourcing, Quality, and Testing
We source and cultivate Hibiscus sabdariffa L. from Africa, specifically from Sudan, Nigeria, and Senegal, as well as some of the smaller African nations when possible. Most experts consider Sudanese Hibiscus to be the gold standard in the industry for high color, overall flavor and tartness. The intense burgundy color in conjunction with the appealing flavor has made it the preferred choice of commodity buyers throughout the world. Additionally, the quality of Nigerian Hibiscus continues to improve, attracting more attention from herbal tea companies.
In 2019, hibiscus was named the "flavor of the year" by flavoring experts based on the growing appeal of florals and botanicals in food and beverages and the trend toward consumer curiosity in consumption. Hibiscus can be used in formulating dietary supplements, baking, functional foods,hot and iced tea, drink concentrates and mixes, as well as juice and juice drinks.
To learn more about our exclusive PHYTOHIB™100 hibiscus powdered extract, read the full case study here.
Shop All of Our Hibiscus Products
*These statements have not been evaluated by the Food and Drug Administration. Our product and website content are not intended to diagnose, treat, cure, or prevent any disease.