scholarship main (save)
The 2020 Nuherbs Scholarship Program will award three scholarships to aid students of Acupuncture and Oriental Medicine in their studies.
Nuherbs Scholarship: $2,000.00
Herbal Times Scholarship: $1,500.00
Jade Dragon Scholarship: $1,000.00
The eligibility requirements are as follows:
A current student with a minimum cumulative GPA of 3.0**
Attend a participating ACAOM accredited acupuncture school.
Submit a completed application, including an essay, to your school´s financial aid office by Friday May 15, 2020
The 2020 Essay Question:
"What does being a great Traditional Chinese Medicine Practitioner mean to you?"
Read a selection of essays from past years' winners: 2016, 2017, 2018, 2019
About Nuherbs Chinese Medicine Scholarship Program:
Reintroduced in 2007 this industry first scholarship program initially ran from 1999 to 2001. Through this scholarship program, Nuherbs has pledged its ongoing support to the future of Chinese Medicine and this beautiful heritage of healing.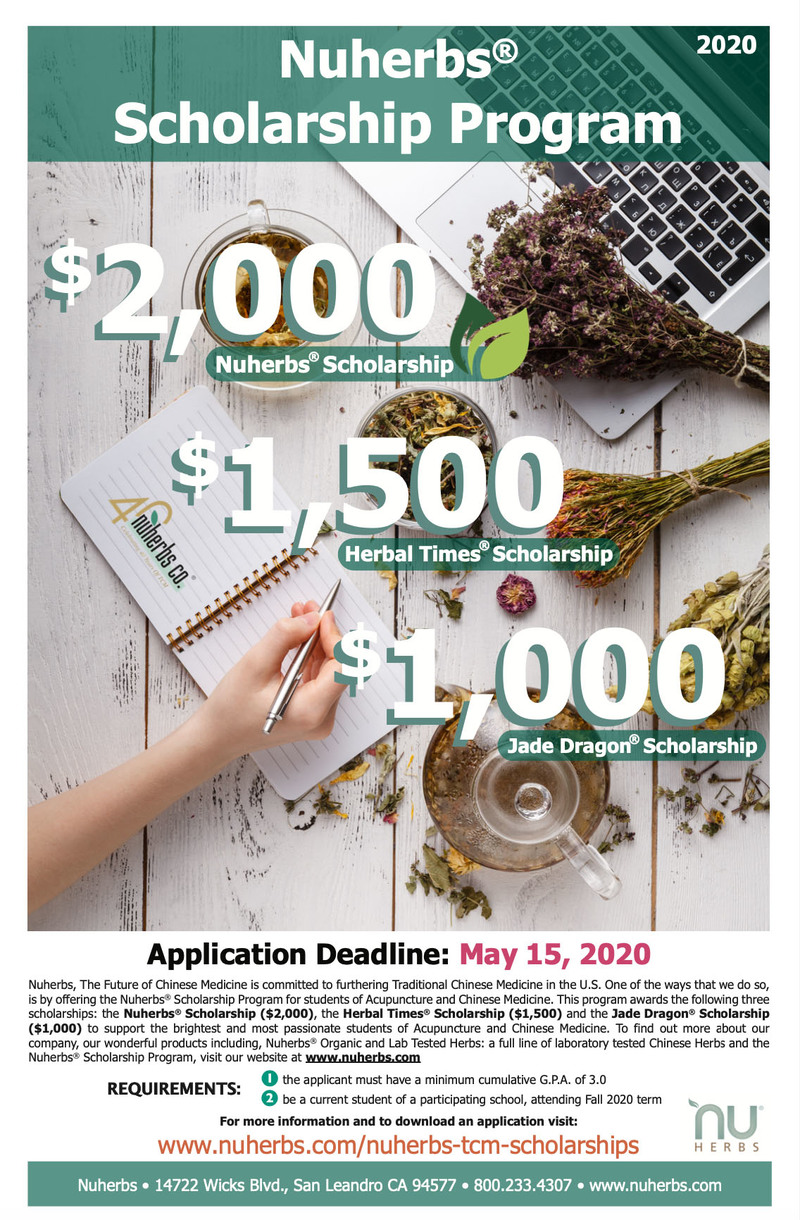 2020 Scholarship Program Poster
**You must be enrolled in an ACAOM accredited school at the time of the application. You also must plan to attend the Fall 2020 term. Students graduating Spring or Summer 2020 or entering Fall 2020 are not eligible. You do not need to provide transcripts with your application. By processing your applications your schools are verifying that you have the requisite grade point average or its equivalent at schools that do not issue letter or number grades.
2020 Participating Schools
Academy of Chinese Culture and Health Sciences
Acupuncture & Integrative Medicine College (AIMC)
Acupuncture and Massage College
Alhambra Medical University
American College of Acupuncture and Oriental Medicine (ACAOM)
AOMA Graduate School of Integrative Medicine
Atlantic Institute of Oriental Medicine
American College of Traditional Chinese Medicine (ACTCM)
Daoist Traditions College of Chinese Medical Arts
Dragon Rises College of Oriental Medicine
Eastern School of Acupuncture and Traditional Medicine
Emperor's College of Traditional Oriental Medicine
Five Branches University - San Jose, CA
Five Branches University - Santa Cruz, CA
Institute of Clinical Acupuncture and Oriental Medicine
Institute of Taoist Education and Acupuncture
Jung Tao School of Classical Chinese Medicine
Maryland University of Integrative Health
Midwest College of Oriental Medicine - Racine, WI
National University of Health Sciences
National University of Natural Medicine
Finger Lakes School of Acupuncture and Oriental Medicine
New York College of Traditional Chinese Medicine
Nine Star University of Health Sciences
Northwestern Health Sciences University
Oregon College of Oriental Medicine
Pacific College of Oriental Medicine - Chicago, IL
Pacific College of Oriental Medicine - New York, NY
Pacific College of Health Sciences
Southwest Acupuncture College - Santa Fe, NM
Virginia University of Integrative Medicine
Won Institute of Graduate Studies
Yo San University of Traditional Chinese Medicine
If your school wishes to participate in the 2020 Nuherbs Scholarship Program, email scholarships@nuherbs.com